Pejam celik pejam celik dah masuk bulan Disember..last month of the year. Tahun depan je dah new year 2011. Makes me feel old already..Sesungguhnya sesuatu yg amat menggembirakan tahun ni bila saya dapat keje. Asal plan nak jadi suri rumah je..Tapi rezeki x kn ditolak kn. Kata sesetengah orang dah kahwin ni susah dapat keje. Tapi lain pulak bagi saya.Tawaran pulak banyak tetapi terpaksa ditolak..Rezeki kahwin mungkin :)
Bulan November pun menjadi sejarah dalam sepanjang kerjaya saya ni, sebab 2 minggu je saya kat rumah. Minggu lain semua outstation untuk kursus;seminar. One in Terengganu; one in Perak. Best, and dapat banyak ilmu n kenalan baru. Penat pn penat juga. Biasala. Tp pegawai baru mmg kna belajar banyak benda...Klu x, habis kna pijak kat ofis..Neves juga masa pg Terengganu hr tu sebab tgh musim hujan, end of the year kn. Kalaula ditakdirkan banjir, payah gak nk balik rumah. Tp ternyata ramalan kaji cuaca tu silap or sekadar ramalan. Belum lagi gelombang kedua. Syukur sangat2...
Awal bulan 12 ni, budak2 SPM n STPM tengah busy exam and my bro is one of them. Masa 1st paper, I made a surprise n send him some cupcakes with Good Luck wishes in a box. Adik saya x penah lg dapat hadiah cmtu..Masa mula2 x tahu nak bagi ape...bila dah ada idea on cupcakes; tgk di area JB banyak yang xde delivery..yg ada pun agak mahal..hantar sms x reply..then saya try jgkla cari yg dekat2 area rumah...
Saya jumpa seorang yang buat cupcake kat area rumah saya juga..nak kata dekat sgt tu xla..saya mesej dia trus reply..so i decided to order with her. Ni lah hasilnya:
Adik saya lelaki; konon tough so sy xnak hiasan bunga *hehe*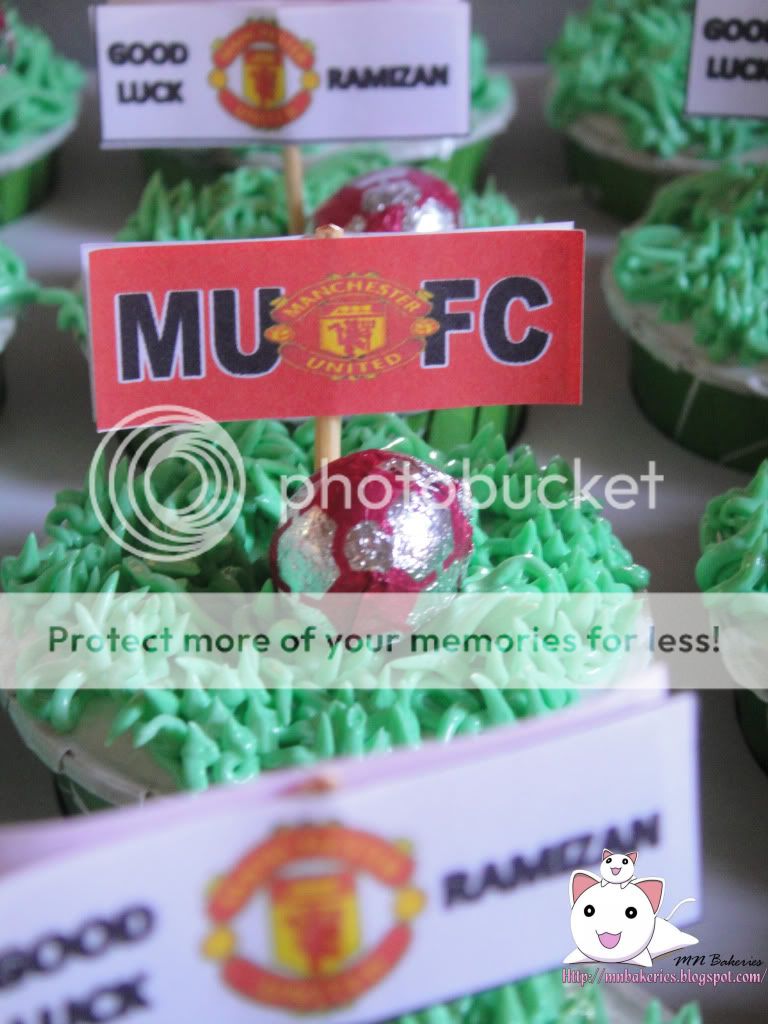 Good Luck Ramizan
Ni kira 1st time I ordered with her and saya sgt2 berpuas hati. Saya sms bertanya n dia reply siap call lagi. Every email yg saya send dia reply. And she really2 asked me what I want. Nk ubah apa2 pun bagitau. Free delivery (coz 1 area, tp agak jauh juga). N bila dia dah hantar, she will call. Kira okla. Tanya my brother dia pun kata sedap..Kira okla kan. But looking at her website, dia lbh famous for her cheesecake. Maybe i'll try that someday :) Here's her
link
.
Bulan 12 ni banyak tempat SALE..sale akhir tahun & for krismas la kn. Kalaula minta list apa yang saya nak beli mmg xkn habis la kn.Tee-Hee..Tp baru dengar semalam yang minyak n gula harga naik. X efek our family that much but if ramai family member n adik beradik..sure terasa punya..mmg org kata kurangkan gula dalam makanan, tambahkan manis dalam senyuman, but seriously, orang nak beli ke kalau makanan yang "kureng" and x sedap? Hm...Neway, Mari Membeli Belah~